People and Groups
Most Recent Member Spotlight
WILL BYNUM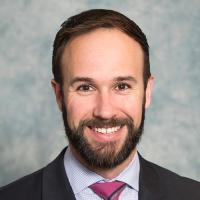 Duke AHEAD role 
Tell us about yourself.
I am in my sixth year as a family medicine faculty member, and I recently completed my first year in the Duke Department of Community and Family Medicine.  I currently have the privilege of serving as associate program director of the Duke family medicine residency, teaching Duke medical and PA students, and conducting research on self-conscious emotion in medical learners. Prior to arriving at Duke, I spent seven years in the US Air Force where I taught at the NCC Family Medicine Residency outside of Washington DC and deployed to East Africa in support of regional military operations.  I am married to my amazing wife Carson, who went to high school with me.  Ten years after graduation, we reconnected, and she finally acknowledged/reciprocated my high school crush and married me!
What do you hope to get out of Duke AHEAD?
Duke AHEAD continues to provide a direct conduit to an incredible network of educators, researchers, and administrators here at Duke.  Arriving to Duke without a network, Duke AHEAD provided me, on day #1, an immediate connection to scholarly resources, inter-professional partners, mentorship, and countless opportunities to get involved, and it continues to do so today.
What can Duke AHEAD do for you?
I view Duke AHEAD as a catalyst for educational scholarship, innovation, and inter-disciplinary collaboration within the larger medical school and university.  In one short year, Duke AHEAD provided me with numerous opportunities to test and improve research ideas and educational innovations.  The sense of community that it provides is both motivating and inspiring, and I am in awe of the quality of the work, support, and collaboration I have experienced in the organization.
Why did you join Duke AHEAD?
I joined Duke AHEAD to contribute to - and grow within - a community of educators and clinicians who are dedicated to improving the educational experience we provide our learners, the quality of care we provide our patients, and the environments in which we work and learn.  Duke AHEAD continues to deliver on each of these core missions, and I'm thankful to be a part of such a dynamic community.