Education Day 2023
View the 2023 Poster Abstracts
Registration is closed, however, some seats may remain available.  Contact us for more information.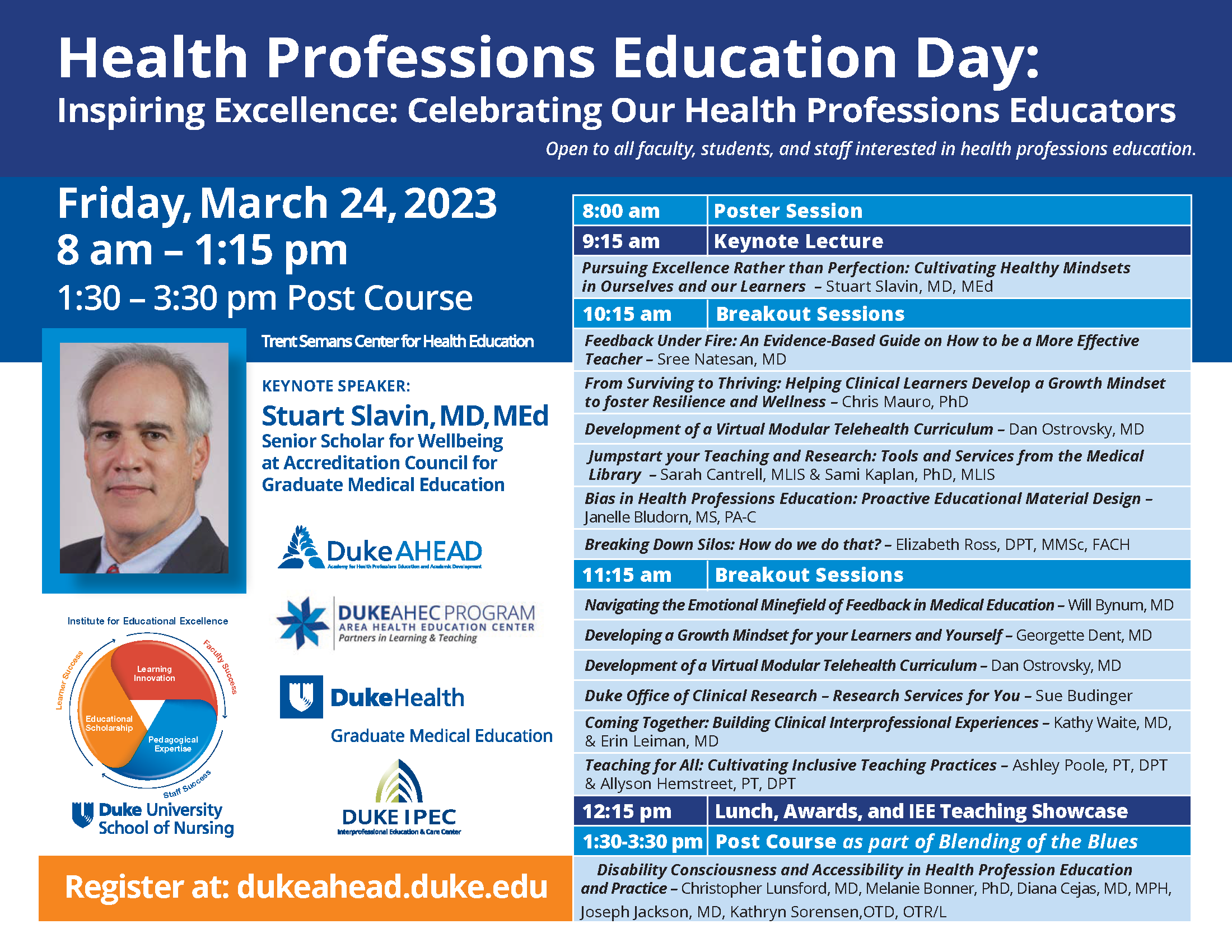 Breakout sessions:
Sree Natesan, MD
Feedback Under Fire: An Evidence-Based Guide on How to be a More Effective Teacher
Following this interactive session participants will be able to describe the best feedback tools based on EBM literature, create an opportunity to practice these skills in a safe environment, and share feedback techniques to help improve the quality of Feedback delivered.
Chris Mauro, PhD
From Surviving to Thriving: Helping Clinical Learners Develop a Growth Mindset to foster Resilience and Wellness
Making the transition from student to clinician can be challenging as many find themselves feeling insecure and questioning their own skills.  Developmental challenges include more clinical activity than ever before, more daily structure, having multiple supervisors simultaneously, and balancing the need to seek assistance while exuding competence.  This presentation will demonstrate how an explicit focus on the development of a growth mindset (Dweck, 2006) may cultivate resiliency, normalize feelings of shame, protect against burnout and instill values of life-long learning among clinical learners.
Dan Ostrovsky, MD
Development of a Virtual Modular Telehealth Curriculum
In this breakout group we will review the development and implementation of a virtual, asynchronous telehealth curriculum using a systematic approach. We will demonstrate aspects of the modules that align with key educational strategies.
Sarah Cantrell, MLIS & Sami Kaplan, PhD, MLIS
Jumpstart your Teaching and Research: Tools and Services from the Medical Library
Join your Duke AHEAD colleagues Sarah Cantrell, MLIS and Sami Kaplan, PhD, MLIS for a fast-paced session where we will guide participants through the Medical Library's hidden gems for teaching and learning, including resources for clinical cases, diverse images, licensed videos, textbooks, and curricular content. We will also emphasize services you can use to enhance your own educational scholarship.
Janelle Bludorn, MS, PA_C
Bias in Health Professions Education: Proactive Educational Material Design
Potential bias in educational materials can impact medical learners and the care they provide as future clinicians. This interactive workshop-style session features the use of a targeted checklist as a tool to address bias proactively, rather than retroactively. Please bring your laptop and one of your own instructional material items (slide deck, case-based activity, multimedia, etc.) you would like to examine for bias.
Elizabeth Ross, DPT, MMSc, FACH
Breaking Down Silos: How do we do that?
Through active engagement with each other, we will explore the values underlying interprofessional collaboration, what that collaboration could look like in our individual settings and strategize next steps to facilitating that aspiration in a meaningful way.
Will Bynum, MD
Navigating the emotional minefield of feedback in medical education
 In this presentation, the speaker will explore the emotional complexity of giving and/or receiving difficult feedback during medical learning. Using the lens of self-conscious emotion (i.e., shame, guilt, & pride), he will walk attendees through strategies to avoid triggering shame, recognize unintentional shame, and orient a learner towards growth and resilience in the face of difficult feedback.
Georgette Dent, MD
Developing a Growth Mindset for your Learners and Yourself
This session will focus on the meaning of a growth mindset and the role that a growth mindset can play in promoting the professional development of learners.  There will be a discussion on ways in which a growth mindset can help students reach their potential and there will be a particular focus on ways in which a growth mindset can help mitigate stereotype threat.
Sue Budinger
Duke Office of Clinical Research – Research Services for You
This session will review the resources available to researchers through the Duke Office of Clinical Research. DOCR provides services to researchers across the University for clinical and non-clinical research projects. Learn what DOCR can do for you!
Ashley Poole, PT, DPT, CCS & Allyson Hemstreet, PT, DPT, CSCS
Teaching for All: Cultivating Inclusive Teaching Practices
This presentation on inclusive teaching will explore the ways in which educators can create a welcoming and inclusive classroom environment for all students. It will cover practical strategies for fostering equity and belongingness as well as promoting student engagement and success.
Kathy Waite, MD, & Erin Leiman, MD
Coming Together: Building Clinical Interprofessional Experiences
Our breakout session will review why clinical experiences, although often the most highly perceived of IPE opportunities, are difficult to develop and even more difficult to sustain for a variety of reasons including program/professional commitment, funding, logistical and infrastructure needs, patient involvement, diverse calendars, and physical location of students.  The session will include a discussion of resources and stakeholder commitments that are imperative to success as well as time for the participants to share their specific successes and difficulties with each other. 
IEE Teaching Showcase Presenters: 
Christina Leonard, APRN, DNP, FNP-C, CNL                               

Kathryn Trotter, DNP, FAANP                                            

Rosa M. Solorzano, M.P.H., MD              

Michael E Zychowicz, DNP, ANP-C, FAANP                              

Benjamin Smallheer, PhD, RN, ACNP-BC, FNP-BC, CCRN, CNE                                   

Malinda Teague, DNP, RN, CPNP-AC/PC                                              

Tina L Johnson, MEd                                               

Midge Bowers, DNP, FNP-BC                                            

Thomas Newpher, Ph.D.                            

Austin Desjardin, MS, BSN                                     
Post Course: Disability Consciousness and Accessibility in Health Profession Education and Practice
This seminar will discuss best practices of disability inclusion and anti-ableism in health profession education and practice.   Through presentations and breakout sessions, participants will explore the meaning of accessibility through the lens of universal design and disability justice, as well as the concept of disability consciousness, which helps us recognize and address disability bias in training and healthcare delivery.  
---